ATL incorporates environmental, social, and corporate governance ("ESG") considerations in its investments and business decisions which is essential to creating value for its partners.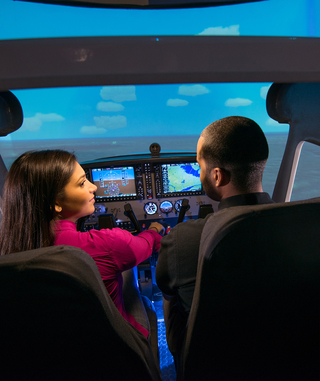 Partnership with Vaughn College
ATL has engaged in a partnership with Vaughn College of Aeronautics and Technology, located in Queens, New York. Vaughn, which is home to 1,600 students from diverse backgrounds, has a demonstrated track record of helping students move into lucrative and successful careers in aerospace.
In an effort led by Lauren DiBartolomeo, ATL investment professionals also make their expertise available to Vaughn College. At Vaughn, more than 90% of students receive financial aid. ATL pledges an annual gift to provide support in three ways: the ATL Scholarship Fund, the Student Experience Fund, and the Speaker Series. Through these channels, ATL is able to offer tuition funding, send students to industry conferences such as those focused on airports, supply chain and logistics, business aviation, cargo-focused and more, as well as support the initiative to host industry professionals on campus to meet and network with students.
Community, Impact, and Long-Term Value
ATL offsets 100% of the carbon emissions from its domestic and international travel and requires senior executives of our portfolio companies to do so as well.
Philosophy
From diligence through exit, our approach has always been to focus on sustainable, long-term value-creation. Our ESG policy is modeled on the United Nations Principles for Responsible Investing ("UN PRI"). ATL Partners is a signatory to the UN PRI.
Transparency
We believe in open dialogue, clear communication with our constituents and working together.
Responsibility
We believe responsibility starts on the home front. ATL focuses on carbon output and works with our companies to do the same.
Partnership
We are proud of the accomplishments each of our companies have made in ESG and we believe we can effect change in a partnership with us. ATL requires each company to report on ESG metrics quarterly, and to publish an Annual ESG Report.
Policies and Reporting
Note: ATL seeks to incorporate ESG into its investment process and firm operations, there is no guarantee that ATL's ESG strategy will be successfully implemented or will have a positive impact. The description of ESG integration herein is provided to illustrate ATL's intended approach to investing and firm operations, however there is no guarantee that this process will produce the intended results.